Were you struggling to address several customer concerns in real-time and with clarity? Are you still using "old school" technology like emails and phone calls? If you answered yes, it's time to enrich your traditional support systems with live video chat software.
But the question is: What's a 1:1 video chat? Continue reading to reduce your eCommerce website bounce rate and increase sales.
What is a 1:1 video chat?
Working from home, video interviews, and conferences have all become common in the professional workplace as businesses welcome and adopt live video meetings. However, video conferencing isn't just for internal conversations. Video chat also helps provide customer assistance on eCommerce websites.
Did you know that one-to-one video chat offers many benefits? One of its outstanding features is that it creates more meaningful interactions with customers and website visitors. Moreover, video chat lowers cart abandonment and assists customers through the shopping experience with proactive chat.
A live video platform for eCommerce websites enables you to:
Communicate with your website visitors more quickly and personally.

Provide prompt responses to customers visiting your website.

Build trust in your brand and loyalty.
According to Statista, live commerce has taken off in China, with sales revenue estimated to reach 3.5 trillion yuan (approximately $488 billion) by the end of 2022.
You should opt for Arvia shoppable video chat widget to meet your live video shopping needs.
Arvia 1:1 Shoppable Video Chat Widget:
Arvia is one of the rapidly growing live video shopping platforms. Imagine agent customer engagement. By enabling on-demand shoppable video calls, your customer service agents can reach out to more customers in-store or at home through their respective smartphones or desktop.
One-to-one video chat helps you close more deals with your customers. By embedding this shoppable video call service, you can get closer to your customers than ever. The live shopping widget is designed for a quick, convenient, and uninterrupted conversation experience.
Rather than redirecting the customers to another platform, Arvia's 1:1 shoppable video chat widget maintains your clients on your website. It requires no application or subscription.
Arvia 1:1 shoppable video chat widget has the following key features:
User-friendly widget

Chat via text

CRM and ERP integrations

Integrations with Google Analytics

Call logging

Dial Diversion

Tagging as an agent

Widget Personalization

Sharing a screen

Transferring Files

Analytical Advancement
The Importance of Including 1:1 Video Chat on Your eCommerce Website:
A customer is only one click away from receiving immediate responses. Arvia's 1:1 video chat allows business owners to have happy customers and boost sales. Following are some customer experiences that enhance your eCommerce business's sales immediately.
1. Customers demand: one-to-one interactions with brands
If you still need to begin establishing a conversational marketing plan, now is the right time to do so. Customers want constant interaction with the brands they buy from. They demand 24/7 access to social platforms, direct communications, and instant connections.
2. Reduce cart abandonment
When customers question the product, they usually leave their purchases unfinished. Then, they leave your site to read product reviews and watch product videos. Afterward, most don't return to complete the purchase, which results in cart abandonment.
Live video chat offers quick and easy service for retail and eCommerce customers. Thus, it reduces cart abandonment.
3. Create trust and client loyalty
You can increase brand loyalty by making them feel privileged with personalized service. To build long-lasting relationships, try to exceed your customer's expectations by continuously addressing him as an individual.
4. Increase your customer base
Increase lead generation by integrating live chat and real-time website analytics. Interact with every visitor on your website through proactive conversation and encourage them to convert.
5. Video chat allows for faster resolution
The primary advantage of video chat is the ability to communicate in real-time.
Customer communication via email or text chat can take time and cause misunderstandings because it's challenging to express yourself in text alone. Body language, tone of voice, and other non-verbal cues during video chat are essential to communication. Shoppable video chat enables ART (average resolution time) to decrease and FCR (first contact resolution) probability to increase.
6. Video chat can help companies in tracking customer satisfaction
It enables eCommerce owners and retailers to create and monitor a whole new channel of communication. For example, a company can offer a quick survey to assess the conversation after a video chat, whether it's to solve a problem or do some virtual shopping.
A short-form text reply can also help to understand the customer experience better. And thus help build the call for the potential customer.
7. You can meet your customer anytime via live video
Business owners can meet customers wherever they are by enabling direct video chat. Customer behavior has shifted significantly in recent years due to the COVID-19 pandemic.
What were the outcomes? Customers now expect brands to provide services that enhance their digital experience more than ever.
8. A video chat provides a more personalized experience
Regarding online shopping, human interaction takes the lead through the video chat strategy. Customers can see another human personality, hear their voice, and engage with them instead of waiting for a message or an email to arrive.
Furthermore, eCommerce personalization is essential for customer retention and a better overall user experience.
Also, see Advice to Sales Professionals for Successful Selling.
Some key figures:
I'm not going to bombard you with statistics. But I do want to show you a few fascinating statistics to show how vital video chat has become for eCommerce websites.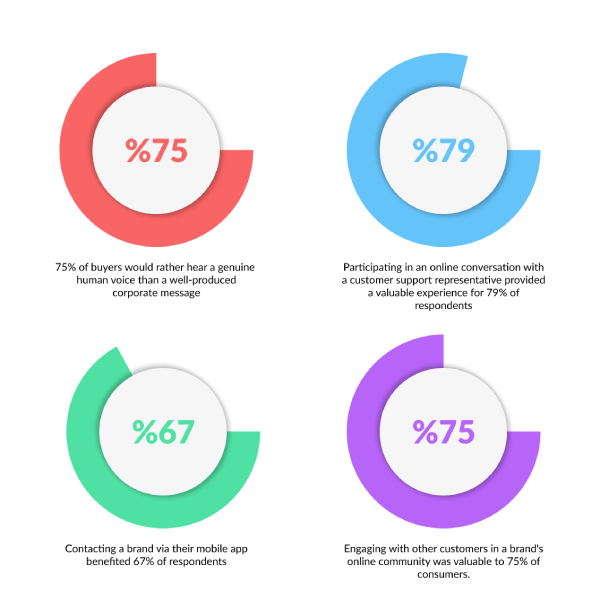 According to data from Khoros
75% of buyers would rather hear a genuine human voice than a well-produced corporate message.

Participating in an online conversation with a customer support representative provided a valuable experience for 79% of respondents.

Engaging with other customers in a brand's online community was valuable to 75% of consumers.

Contacting a brand via their mobile app benefited 67% of respondents.
A Few Best Practices in Customer Service for 1:1 video chat:
It's always difficult to introduce a new medium into the game, especially one unused to video chat. So here are some more critical pointers for incorporating video chat into your customer care service:
Give Your Team Customer Service Training
Your personnel is likely already proficient at handling every customer engagement via phone or live chat. But what about via live video chat?
Communicating with customers through a camera has its own set of peculiarities. However, training new and experienced staff in video communication will enable them to provide excellent customer service every time.
Teach employees to make eye contact by looking directly into the camera lens (rather than at the customer). To develop trust and boost involvement, emphasize the value of adopting good body language, such as:
Straightening up

Making use of hand gestures

Demonstrating

Active listening abilities
It's also critical that your staff use appealing camera angles and have clean, balanced backgrounds. As a result, your video conversations will feel more authentic. In addition, customers will have an excellent time connecting without distractions if you present a clean, professional appearance.
Include Technical Training Too
Employees who need help understanding how to use their live video chat risk producing time-consuming delays. These glitches might result in negative customer experiences. In addition, employees that are ill-equipped to address the typical audio, camera, and network connectivity difficulties face the same fate.
All of these things have the potential to disengage and annoy clients during a video chat.
77% of customers will forgive a terrible experience if the customer support staff is "remarkably good."
That implies that technical problems do not have to result in client losses. Customers often forgive as long as your team understands how to handle fundamental technological issues.
Provide your staff with the necessary information to prevent and resolve technical issues.
Get the Best Audio and Video Gear
Spending on high-quality software and equipment can help to avoid typical problems.
Background noise, video stuttering, and inconsistency contribute to negative customer experiences. There's no need to spend a fortune on high-quality equipment for video chat. All your staff requires to provide excellent customer service is:
A reliable video-calling application

A good headset with an integrated microphone

A webcam with high resolution
Poor bandwidth and slow internet speed can cause the above issues and others. Check that your internet connection fulfills the criteria of your video software. Furthermore, perform regular speed testing to detect network-related problems that may jeopardize user experiences.
Select the best vendor for video chat
Different video chat products are available, but which is best for the eCommerce and retail industry? Consumer preferences and e-commerce should guide the solution you select. Because video chat for banking does not fit your business. You need some features like;
Add to cart from chat widget

Product previews on the chat screen

Analytics for call conversions and agent performances
Run your work and choose the video chat solution that best suits your eCommerce needs.
Conclusion
Live video shopping brings the digital experience to life. Video chat is refreshing in a world where a great deal relies on automation and self-help. Arvia's 1:1 video chat widget will give your business a face, something eCommerce owners and retailers usually miss.
Video chat also allows for personalized customer service, which is impossible over the phone or through a chatbot. I hope you find the article helpful. Stick around for more posts regarding live video shopping and customer experiences.