HIPAA Compliant Video Call API for TeleHealth Platforms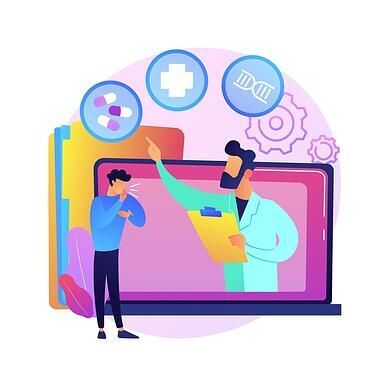 The tendency to TeleHealth platforms has been increasing worldwide. With this tendency, video calls get attention not only in online doctor examination but also in other healthcare services as well. For example, in different areas such as psychology, physical therapy, speech therapy, child development, and dietitian support, the number of given telehealth services carried out via video calls are increasing day by day.
Thanks to mobile services, the health journey continues outside the boundaries of the hospital.
By using video chat API, health institutions can easily integrate video call systems to their mobile applications and websites. Once video chat API to be used, offers features such as mobile notification, call management, and advanced reporting, digital health services can be delivered in the most ideal way.
One of the most critical issues is the protection of patient data for Telehealth platforms. HIPAA-compliance Standard, which protects personal health data and medical records, is as crucial in video calls where doctor consultations and therapies take place as it is face to face services. Thanks to HIPAA compliant video call API, health institutions provide user-friendly digital health service.
It is Very Easy To Create TeleHealth Applications With Video Chat API!
If you want to provide HIPAA-compliant telehealth service, you can use video call API which is developed byarvia. You can integrate the video call feature in your website and applications by adding only 4 lines of code; you can arrange real-time video calls between patients and specialists. You can protect all conversations and information thanks to Arvia's end-to-end encryption of video calls and messages.
Advantages of Arvia Video Chat API in TeleHealth Solutions
Security
The 3rd party video chat API used on a safe telehealth platform must be compliant with, GDPR and HIPAA standards, and it is necessary to protect confidential and sensitive data of the patient comprehensively. Ensuring that used video chat API provides certain encryption algorithms and data security standards, is under the responsibility of the health institution that provides telehealth service. Keeping information security first of all in all interactions Arvia Video Chat API:
Does not save patient information.

Encrypts video, audio, and messages end-to-end.

Offers a comprehensive BAA (Business Associate Agreement) in line with

HIPAA

compliance.
Service-Oriented Solution
Even though the business volume in the telehealth industry has increased with the pandemic, elderly patient participation in telehealth services is limited since people over a certain age stay away from technology. For this reason, it is an important argument that the online technology offered is effortless, simple, and does not tire the user. When evaluated within this scope; the video chat API offered by Arvia carries features that positively affect the service perception. Thanks to user-friendly video chat API patients can make video calls under the institution's site or application within minutes without the need to download any application, without any membership. Thanks to all these features in TeleHealth platforms, the patient experience becomes easier.
Economic Investment
In today's tough competitive conditions, it is important to have information technologies at affordable prices. Thanks, to video chat API you can easily integrate the website of the health institution by adding only 4 lines of code. In this way, users can contact you within your institution's website/application. Instead of reconfiguring your entire system and accessing this service with high costs, you can benefit from this service at very economical prices.
High-Quality Video Call
Since in video calls, video quality affects the quality of the conversation, video chat resolution, speed, etc. factors also affect the performance of the interview. Supported by strong infrastructure video chat API ensures trouble-free conversations. It also offers many user-friendly features such as "messaging", "sending files", "screen sharing" and "drawing on video". For example, an advanced Video Call Center module can be more useful for healthcare. All conversations can be carried out quickly and without interruption online with a single click. Besides, interviews can be measured and reported.
To make health communication flexible and independent by using the solution of Arvia Video Chat API you can provide safe and pleasant service for both your institution and your patients.